Full specifications for the Thomson Engineering Design Universal Rail Thimble
The RT10 Universal Rail Thimble from Thomson Engineering Design is a rail handling device suitable for the removal and installation of long welded running rails.
Attached to an excavator or loader the RT10 Thimble supports and controls the rail with four rollers running beneath the rail head. Long welded rail can be threaded into position as the host machine travels along the rail.
The design of the RT10 Thimble means that it can be fitted to the rail without having to first lift the rail onto blocks reducing the time taken for threading operations and removing the need for personnel to be in the vicinity of the rail.
A pilot operated check valve mounted on the large bore hydraulic cylinder locks the cylinder in the event of a hose failure making this the safest device of its kind.
The RT10 Thimble was first introduced in 2003 and has been the most popular device of its kind in the UK ever since due to its robust construction, smooth operation and hydraulic control.
The butterfly action gives a wide jaw opening which makes it easy for the operator to fit the device to the rail and eliminates the need for manual assistance.
RT10 Thimbles come pre-fitted with 1500mm long connecting hoses and a 12 tonne capacity attachment shackle so they are ready to fit to almost any machine.
The RT10 Universal Rail Thimble is easily attached to the host machine by
hooking to the 12 tonne safety bow shackle.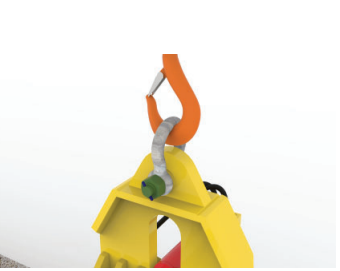 The device is supplied with 1500mm long connecting hoses terminated in
3/8" BSPP hose ends ready to fit your own choice of connectors.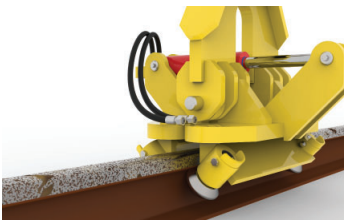 A twin pilot-operated check valve locks the cylinder in the event of a hose
failure or host machine hydraulic failure.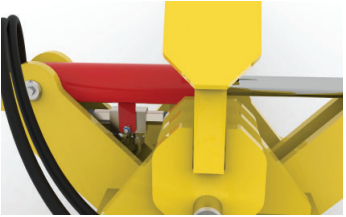 To minimise the risk of hose failure the supply hoses are protected by a
thick steel hose guard where they emerge from the device.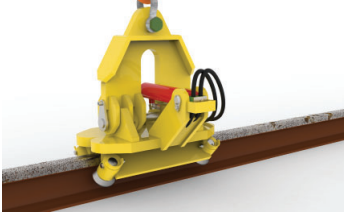 The rail is supported by specially shaped rollers which run under the top
corner of the rail web. This ensures that the RT10 Thimble can be used
on almost all types of running rail and eliminates the need for the rail to be
lifted to attach the thimble.
Rollers are case hardened high strength steel for long life without risk of
cracking.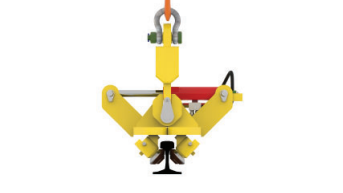 All rollers and joints are fitted with grease nipples. The rollers and the main
hinge have bronze bushes and thrust washers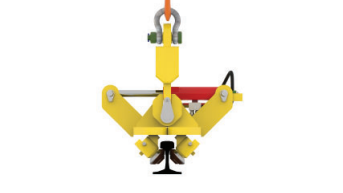 Wide opening jaws make it easy for the operator to fit the RT10 to the rail.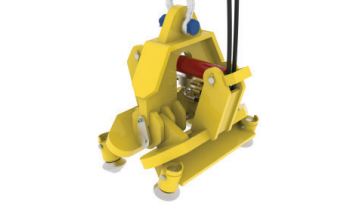 Tare Weight                                                                     285 kg
Safe Working Load (WLL)                                               1,250 kg
Design Working Load                                                     5,000 kg
Maximum Threading Speed                                           5,000 m/hr
Application                                                              All Standard Running Rails
Maximum Hydraulic Pressure                                        210 Bar
Minimum Hydraulic Pressure                                         90 Bar
Shackle Type 12                                                      tonne Safety Bow
Cylinder Bore                                                                  60 mm
Safety Valve Dual                                        Action Pilot Operated Check Valve
Roller Diameter                                                               80 mm
All technical and sales enquiries should be directed to Thomson Engineering Design.
Thomson Engineering Design Ltd
Units 2a & 3 Crabtree Road
Cinderford
Gloucestershire
UK
GL14 2YN

Tel: +44 (0) 1594 82 66 11
Email: sales@thomsondesignuk.com
technical@thomsondesignuk.com