RHB16-02 RAIL HANDLING BEAM Specification
KEY FEATURES AND SPECIFICATIONS FOR THE RHB16-02 RAIL HANDLING BEAM
The Thomson RHB16-02 Rail Handling Beam is a heavy-duty device designed for continuous use in rail delivery, haulage and handling operations.
A key feature of the RHB16-02 is the jaw design which allows it to handle and stack rails in foot-to-foot stacks whilst still applying a heavy grip force for safety. These features make it an ideal solution for use with truck mounted cranes in delivery operations and with rail cranes in scrap recovery operations.
The beam can be confi gured with a wide range of adapter heads to suit any type of machine.
Rails are gripped below the rail head allowing the beam to be used for lifting rail sections in and out of sleepers (ties) without fouling on any clippling system.
This device is fi tted with a full suite of safety features including a parachute safety valve, built-in pressure control and pilot operated check valves on the jaw cylinders making this a top-specifi cation rail handling product.
Overall Transport Dimensions             1430mm (L) x 500mm (W) x 1275mm (H)
Overall Weight (with typical head)                                                               325    kg
Transport Weight (inc stillage)                                                                15,000    kg
Maximum Working Load (lift)                                                                   1,250     kg
Maximum Hydraulic Supply Pressure                                                        250     Bar
System Pressure                                                                                            100      Bar
Cylinder bore                                                                                                     40    mm
Cylinder rod diameter                                                                                     25     mm
Cylinder extension force                                                                            18.85     kN
Cylinder retraction force                                                                              11.2      kN
Jaw force at point of grip                                                                            18.2       kN
Standard Rotator                                                                               Baltrotor GR603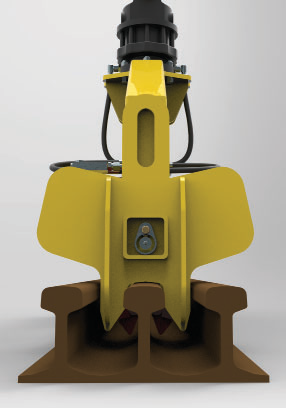 A full range of adapter heads are available to confi gure the device for almost any hydraulic lifting machine from truck mounted cranes to excavators, material handlers and loaders
The 6,000kg capacity rotator provides powerful and precise control of the
beam alignment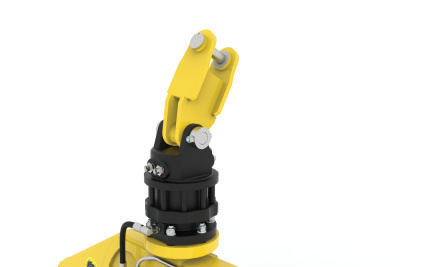 A rise and fall rotator mount operates a load sensing 'parachute' valve which automatically shuts off the connection to the jaw cylinders during the lifting operation – preventing inadvertent release of the load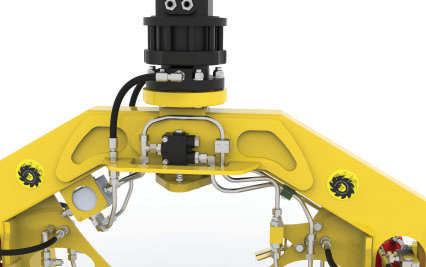 In special circumstances it may be desirable to disable the parachute valve system, for example when dropping scrap rails into a truck. To cope wiht this eventuality a bypass tap is provided
In normal operation the tap is padlocked in the 'safe' position as shown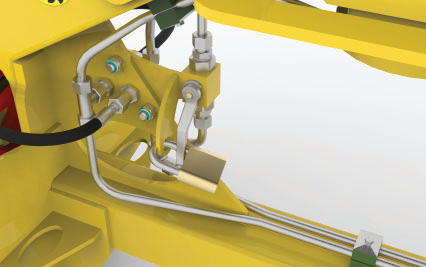 A precision, double-acting pressure reducing valve controls the pressure within the hydraulic system of the RHB16-02 allowing it to be fi tted to different host machines without needing to adjust the host machine pressures
Any auxiliary hydraulic service with a pressure between 90 Bar and 250 Bar may be used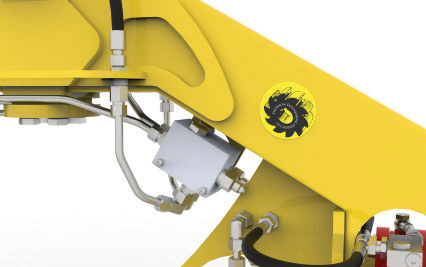 The jaw cylinders are fi tted with pilot operated check valves which lock the cylinders in the event of a burst hose or a host machine hydraulic failure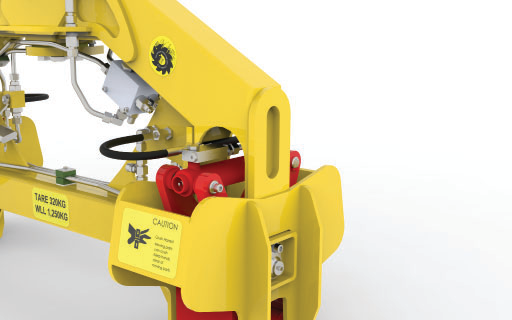 The unique design of the jaws keeps the moving parts protected from impact damage whilst maintaining a narrow profi le
All joints and pivots are fi tted with replaceable bushes and grease nipples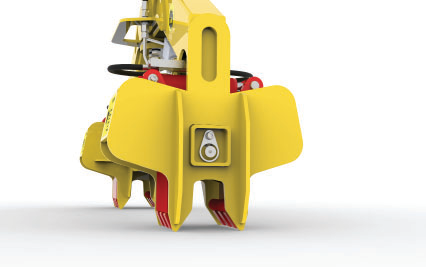 The jaw design allows rails to be stacked foot-to-foot and to be removed from tight stacks without having to prise the rails apart fi rst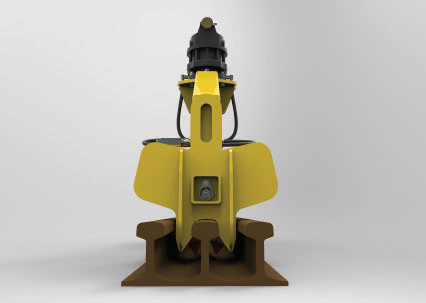 Adapter Heads and Options
The RHB16-02 Rail Handling Beam is designed with an industry standard 6-bolt fl ange adapter allowing it to be specifi ed with the widest range of adapter systems.
The beam may be specifi ed with a hydraulic rotator. A 6 tonne capacity unit is supplied as standard but heavier capacity units may be specifi ed for special applications.
Rotator adapter heads are available to suit excavators, quick couplers of all types and truck mounted cranes.
Thomson Engineering Design holds an extensive drawing library of adapter head designs for many different machines and coupling systems allowing us to produce accurately fi tting adapters for almost any host machine confi guration.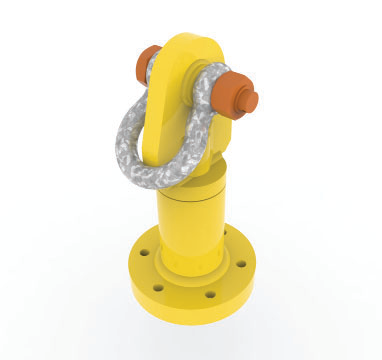 The Swivel Head adapter may be specifi ed in place of a hydraulic rotator where a second hydraulic service is not available from the host machine.
This free running swivel head may be suspended from a fi xed crane hook. The device has a safe working load capacity of 10,000kg and is fi tted with a 12 tonne safety bow shackle.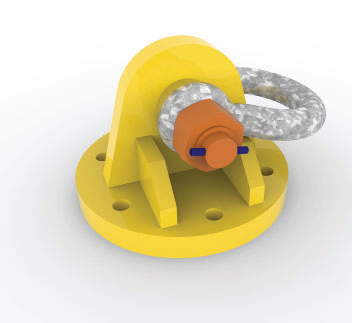 Where weight is an issue or where the maximum lift height is required our Low Headroom adapter head may be specifi ed.
This adapter head has a rated load capacity of 10,000kg and is fi tted with a 12 tonne safety bow shackle for connection to a standard crane hook.
This adapter head must be used with a free swivel crane hook.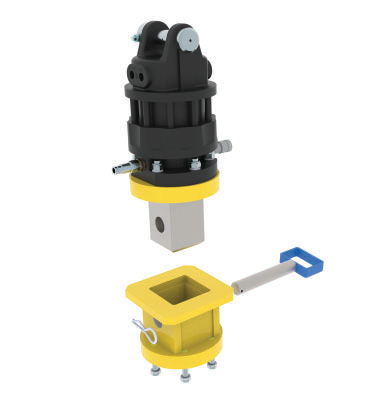 Our truck crane quick change system is ideally suited to the RHB16-02 Rail Handling Beam. This system allows one rotator to be used for multiple attachments and for those attachments to be swapped in a matter of minutes.
A broad range of other attachments are available from Thomson Engineering Design for use with truck cranes including a number of specialised rail, sleeper and parts handling grabs.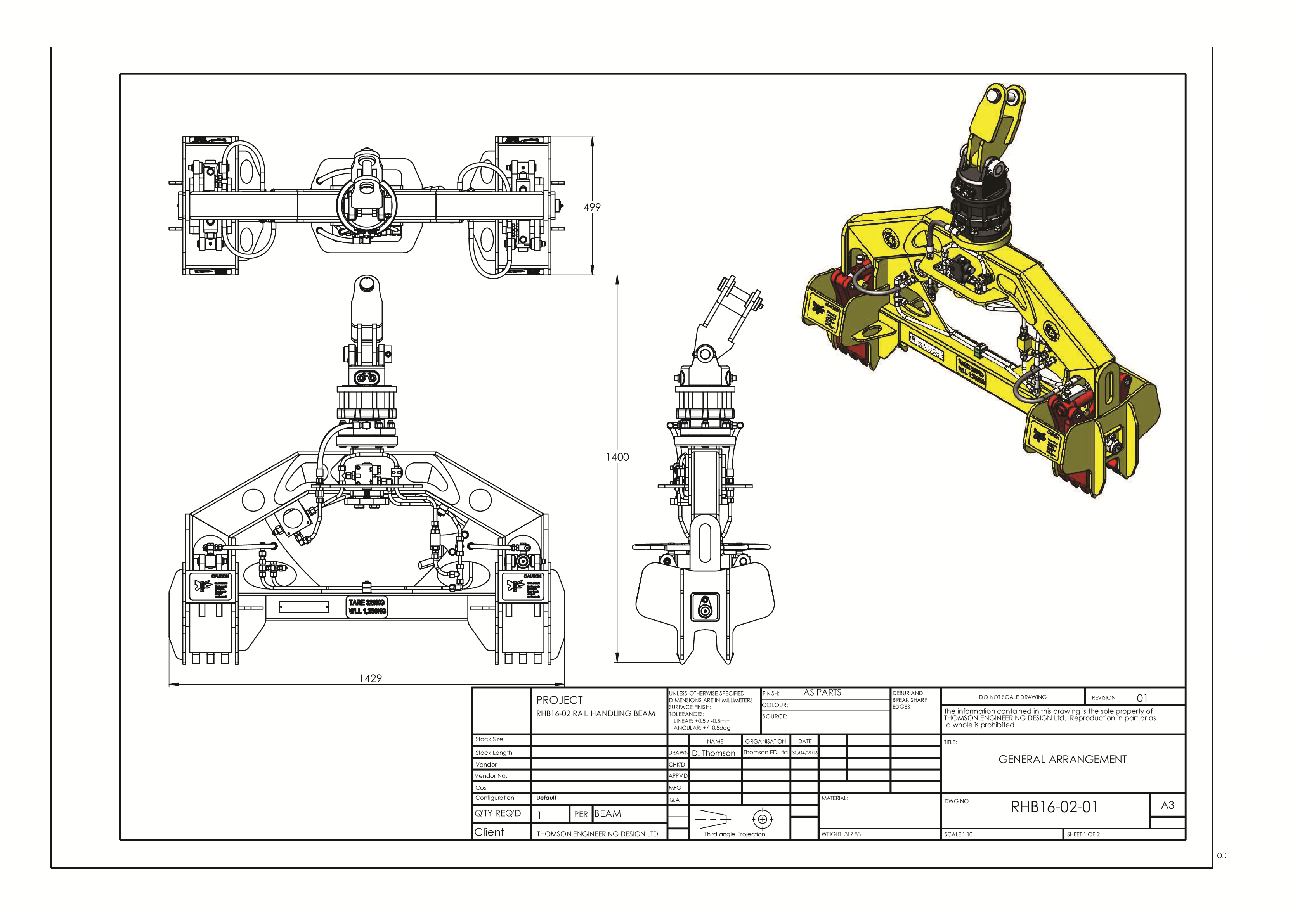 All technical and sales enquiries should be directed to Thomson Engineering Design.
Thomson Engineering Design Ltd Units 2a & 3 Crabtree Road Cinderford Gloucestershire UK GL14 2YN
Tel: +44 (0) 1594 82 66 11
Email: sales@thomsondesignuk.com , technical@thomsondesignuk.com
PLEASE NOTE

Whilst every care is taken to ensure that the contents of this document are true and accurate, the specifications of our products and the scope of our services are constantly changing as part of our policy of continuous improvement.
We strongly recommend contacting the factory to ensure that details given are still current.
More than half our business comes from special products designed and built as one-off's and we are always pleased to discuss amended specifi cations should the product detailed here not meet your exact requirements.